The products of Hayashi Felt are trusted by many companies and assembled in various merchandise such as OA equipment, automobiles, optical equipment and mobile phones etc.
We have delivered our products to more than 1,000 companies.
The followings are the some examples.
Parts for OA Equipment
As for office equipment such as printers and copying machines etc., we provide various functional parts such as cushion members for sound absorption, damping and soundproofing, various parts fixing double sided tapes (removable, strong adhesive, incombustible etc.), film materials for powder scraping, film materials for mixing, air filters for dust-proofing, tonor seal materials, conductive materials, paper feeding friction adjustment materials and paper pressing sponges etc. to many office equipment makers.
We support customer demands with the development of specialized materials that match applications and flexibility to connect hand-made trial production to mass production.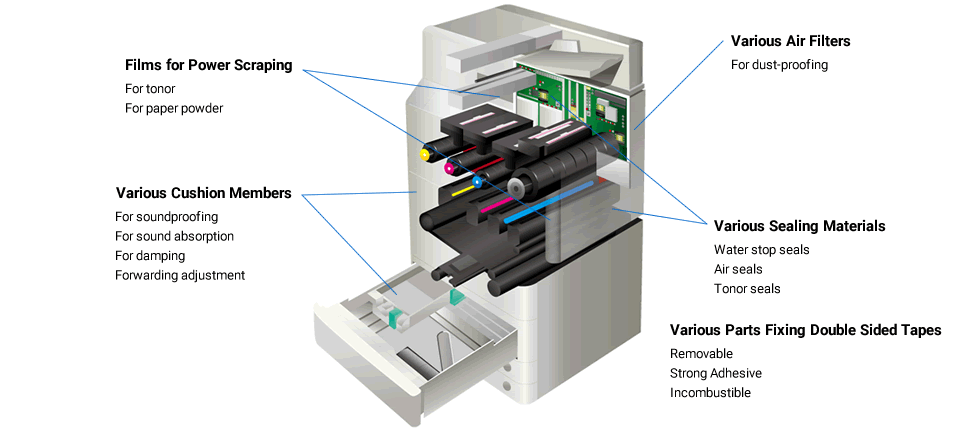 Example of Use
Material
Processing Method
Various cushion materials (for soundproofing, sound absorption and damping)
Urethane, Olefin, EPDM foam
Various parts fixing double sided tapes
Strong double-sided tape, Removable double-sided tape, Non-VOC double sided tape
Films for tonor scraping
PET, Polycarbonate, PPS etc.

Punching
Rotary processing

Various air filters
Urethane, Nonwoven fabric,
Various sealing materials
Teflon felt, Nonwoven fabrics, Various foam materials
Anti-static brush
Conductive fiber