We will advance the business with the "Hayashi-style" and contribute to the society
Company Overview
Name
Hayashi Felt Co.,Ltd..
Establishment
January 1948
Incorporation
December 17, 1962
Capital
¥ 200 million(¥500 x 400 thousand stocks)
Executive Officers

Chairman of the Board

Hiromasa Moriya

Representative Director & President

Tsuyoshi Ishii

Director

Shunichi Araki

Director

Yasuyuki Okuyama

Director

Maaki Kamio

Auditor

Toshio Kujirai

Employees
97
Sales
¥ 4.66 billion (Fiscal year ended December 31, 2020)
Main Stockholders
Tokyo Small and Medium Business Investment & Consultation Co.,Ltd.
KGK System Co.,Ltd. Gyohei Hayashi
Banks
Ueno Chuo Branch, MUFG Bank,Ltd.
Ueno Branch, SHOKO CHUKIN BANK
Ueno Branch, JOYO BANK
Enrolled Organization
Tokyo Chamber of Commerce and Industry
Certification
JIS Q 9001:2015 (ISO 9001:2015), JIS Q 14001:2015 (ISO 14001:2015)
History
| | |
| --- | --- |
| January 1948 | Mr. Keiichi established Hayashi Felt at 2-1-4 Kotobuki, Taito-ku, Tokyo for selling and processing of felts |
| December 1962 | Incorporated as Hayashi Felt Co.,Ltd. Capital: ¥5 million |
| September 1977 | Opened Yashio Factory |
| July 1980 | After the increase of capital for few times, New Capital: ¥45 million |
| March 1983 | Opened Osaka Branch |
| July 1984 | Opened Tsuchiura Representative Office |
| December 1984 | Got the investment from Tokyo Small and Medium Business Investment & Consultation Co.,Ltd. and increased the capital, New Capital: ¥100 million |
| December 1987 | Keiichi Hayashi, the Founder and President passed away, Gyohei Hayashi was induced as the President |
| September 1989 | Opened Hikone Representative Office |
| September 1991 | Doubled the capital, New Capital: ¥200 million |
| November 1992 | Tsuchiura Representative Office moved to the newly-built building |
| September 1998 | Established HAYASHI FELT(H.K.)LTD. in Hong Kong |
| January 1999 | Transferred the color felt business to Felt House |
| September 2000 | Acquired ISO14001 certification (All the companies in Japan) |
| March 2001 | Gyohei Hayashi was induced as the Chairman, Hiromasa Moriya was induced as President |
| April 2002 | Acquired Hachioji Packing Co.,Ltd. |
| September 2002 | Established HAYASHI OA PRODUCTS DALIAN CO.,LTD. in Dailian, China |
| March 2004 | Acquired the ISO 9001 certification (all the companies in Japan) |
| July 2004 | HAYASHI OA PRODUCTS DALIAN CO.,LTD. acquired the ISO 14001 certification |
| April 2005 | Established HAYASHI SUZHOU CO.,LTD. in Suzhou, China |
| May 2006 | Established HAYASHI ZHONGSHAN CO.,LTD. in Zhongshan, China |
| July 2006 | Opened Oita Representative Office |
| August 2008 | Changed the name of Hachioji Packing Co.,Ltd. to Yamanashi Seimitsu Co.,Ltd. |
| April 2012 | Changed the name of Osaka Branch to Osaka Sales Office |
| March 2013 | Established HAYASHI FELT(THAILAND)CO.,LTD. in Thailand |
| September 2017 | 2nd factory of Yamanashi Seimitsu Co.,Ltd has been established. |
| March 2021 | Hiromasa Moriya was induced as the Chairman, Tsuyoshi Ishii was induced as President |
| March 2021 | The Hikone branch office closure |
Settlement Information
Our company discloses the balance sheet instead of the public notice of the Paragraph 1 of the Article 440 of the "Company Act" based on the provision of Paragraph 3, Article 440 of the act.
Organization Chart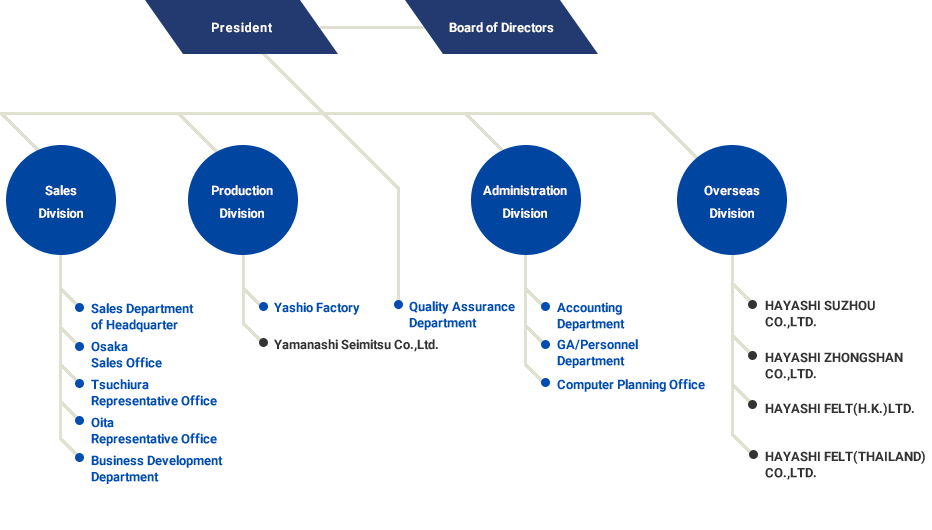 CSR Activities
Management Policy
Corporate management by considering the global environment
Development of human resources by transfers of authorities
Development of technologies and products that meet user needs
Maintenance of solid financial condition
Corporate Ethical Policy
We pursue proper interests by fair competition under the basic policy that "Contribute to the industrial society through the production of additional values", recognizes the importance of social responsibility of corporate, complies with laws, and implement business activities based on social norms and common senses.
Compliance with Laws and Social Norms

We comply with the related laws (laws/ordinances/internal rules), and implement business activities based on the social norms and common senses.

Healthy and Fair Business Activities

We do fair competitions and trades, and maintains healthy and normal relationships with customers/suppliers and government authorities.
We do not give or accept gifts or entertainment that are not appropriate compared to the social common senses.

Promotion of Environmental Preservation

We make efforts for the reduction of loads on the global environment and preservation of the global environment by improving own environmental condition.
We make efforts for energy/resource saving in all the business activities and continuous improvement.

Protection of Intellectual Property Rights

We pay careful attention to intellectual property rights of other persons not to infringe them.

Compliance with the Act Against Delay in Payment etc. to Subcontractors

We do not push any unfair treatment and delay in payment to subcontractors.

Dealing with Anti-social Forces

We do not have any relationship with anti-social forces/organizations that disturb social order and piece.

Respect to Human Rights

We consider basic human rights and privacy and do not accept any kinds of discrimination and harassment in all the business activities.
We secure healthy workplace environment, and provide a filed in which employees can improve themselves and realize self-actualization.

Thorough Compliance with Corporate Ethics

We act by giving the first priority to the social justice and ethics. In case that is not corresponding to this, we make efforts to solve the problem, find the cause, and prevent the recurrence as the whole company.
And we impose a punishment, as necessary.

Business Continuity Plan

We provide and implement the business continuity plan (BCP) for case that a phenomenon that affects the business activity of our company seriously to maintain the management and management policy of our company.